Product Overview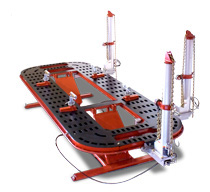 The Power-Pro SL & SL HD series of racks offer a feature set which customers have embraced in today's collision repair rack market place. It has an extended-height lifting capability for ergonomic working heights, an open front and rear for greater accessibility to the vehicle for repairs, a faster pinch-weld anchoring system with fewer bolts to secure it to the rack platform and 60% more chain tie-downs for efficient and timely vehicle tie backs.

Click on one of the section titles to learn more about the Power-Pro SL & SL HD Series Frame Straightening Racks.
Features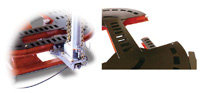 Front and Rear Removable Cross-Members
Perform a front-end pull removing mash, and then remove the cross-member to gain unrestricted access to the vehicle.
---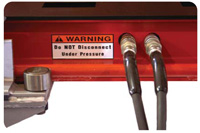 Electric-Hydraulic Couplers
Eight quick-connect electric-hydraulic couplers are conveniently located around the rack for efficient tower connections or for auxiliary hydraulic repair accessories. The couplers provide for a positive seal and allow for a safe, clean operating environment for your technicians.
---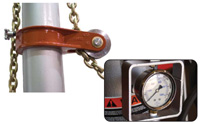 Infinite Positioning of Pull Collars
Variable-position pull collars provide for unlimited positioning for the correct alignment with the pull being made. Water-filled pressure gauges can be adjusted to provide the technician with the best line of sight when making 10 ton pulls at the hook.
---

Pinch-Weld Clamp
Pinch-Weld Clamp base secures to the rack with a single bolt reducing your vehicle setup times.
---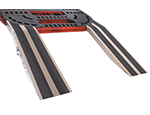 Light-Weight Steel Ramps
For loading and off-loading the vehicle from the front or rear of the rack.
---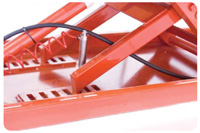 Working Heights
Eight working heights from 12" to 42" provide for one of the lowest working heights in the market. Adjustable working heights provide flexibility in properly positioning the vehicle at an optimum working height for ultimate productivity boosts.
---
Available Configurations
| | Part Number | Number of Towers | Shipping Weight |
| --- | --- | --- | --- |
| Power-Pro 2000 SL | BH9014202 | 2 | 6,200 lbs (2,812 kg) |
| Power-Pro 2000 SL | BH9014203 | 3 | 6,800 lbs (3,084 kg) |
| Power-Pro 2000 SL | BH9014204 | 4 | 7,400 lbs (3,357 kg) |
| Power-Pro 3000 SL | BH9014222 | 2 | 6,620 lbs (3,003 kg) |
| Power-Pro 3000 SL | BH9014223 | 3 | 7,220 lbs (3,275 kg) |
| Power-Pro 3000 SL | BH9014224 | 4 | 7,820 lbs (3,547 kg) |
| Power-Pro 3000 SL HD | BH9014232 | 2 | 9,000 lbs (4,082 kg) |
| Power-Pro 3000 SL HD | BH9014233 | 3 | 9,600 lbs (4,355 kg) |
| Power-Pro 3000 SL HD | BH9014234 | 4 | 10,200 lbs (4,627 kg) |
Specifications
Power-Pro 2000 SL
Power-Pro 3000 SL
Power-Pro 3000 SL HD
Rack Length:
20' (607 cm)
22' (671 cm)
22' (671 cm)
Rack Max. Length (with towers):
24' 1" (734 cm)
26' 1" (795 cm)
26' 11" (820 cm)
Width of Rack:
88" (224 cm)
88" (224 cm)
92" (234 cm
Width of Rack (with towers):
12' 2" (371 cm)
12' 2" (371 cm)
12' 6" (381 cm)
Width of Treadway:
26.5" (67 cm)
26.5" (67 cm)
28.5" (72 cm)
Center Opening Width:
35.5" (90 cm)
35.5" (90 cm)
35" (89 cm)
Max. Overall Height (Towers Down):
9' 10" (300 cm)
9' 10" (300 cm)
9' 10" (300 cm)
Min. Overall Height (Towers Down):
7' 4" (224 cm)
7' 4" (224 cm)
7' 4" (224 cm)
Max. Overall Height (Towers Extended):
10' 8" (235 cm)
10' 8" (235 cm)
10' 8" (235 cm)
Min. Overall Height (Towers Extended):
9' 8" (295 cm)
9' 8" (295 cm)
9' 8" (295 cm)
Tie-Downs:
222
244
244
8 Working Heights:
12" up to 42"
(31 cm up to 107 cm)
12" up to 42"
(31 cm up to 107 cm)
12" up to 42"
(31 cm up to 107 cm)
Lifting Capacity:
9,000 lbs (4,082 kg)
9,000 lbs (4,082 kg)
12,000 lbs (5,443 kg)
Pulling Capacity:
10 ton (9t 72kg)
10 ton (9t 72kg)
10 ton (9t 72kg)
Power Requirements:
120V 1Ph 60Hz
120V 1Ph 60Hz
120V 1Ph 60Hz
Accessories
| Part Number | Description |
| --- | --- |
| 9020026 | Truck Tie-Down Board |
| 9020030 | Vehicle Loading Package. Includes: Winch, Wheel Stands, Car Dollies, and 2 Bag Air Jack |
| 9033123 | Pushing Post with Ram for Power-Pro SL |
| 9025306 | Pushing Post with Ram for Power-Pro SL HD |
| 9025050 | Overhead Pull with a Collar |
| SL59319 | Light Duty Frame Anchoring |
| 9033160 | Down Pull |